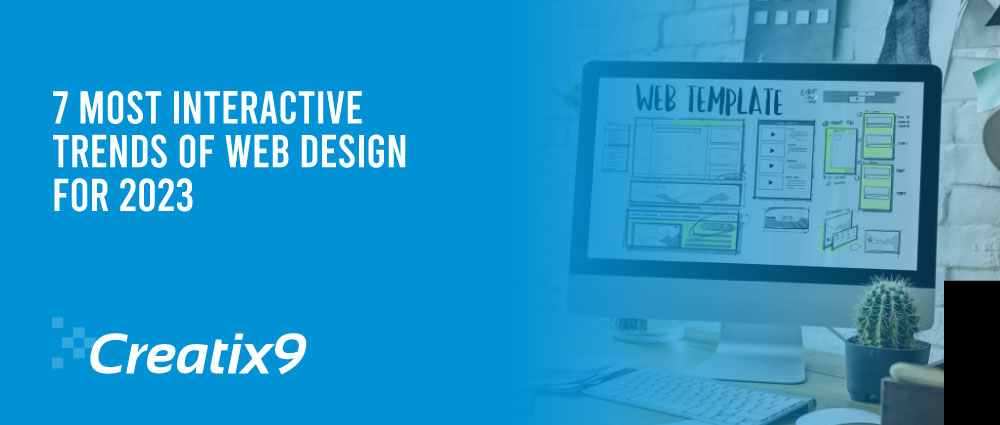 In 2023, the upcoming phase of the internet has reached where new web design trends are an essential factor for all businesses. These digital trends shows developing technology and its impact on society, as every time they do, and in 2022, designers receive a ton of inspiration.
AI has highly advanced to the level where it can now built its works of art. At the same time, the Metaverse has support VR to become more broadly accepted. A global economic downturn has simultaneously encouraged people to turn away from wealth and strive for enjoyable, calming activities. As a result, rapid, worldwide efforts to innovate web design that must appear aesthetically appealing.
So today, Creatix9 UK, the best IT services provider in London that offers the best creative agency services online, will deliver the latest web design trends for 2023 where immersive, simulational, and cinematic techniques are applied. Let's start.
1. Reveals of Animated Product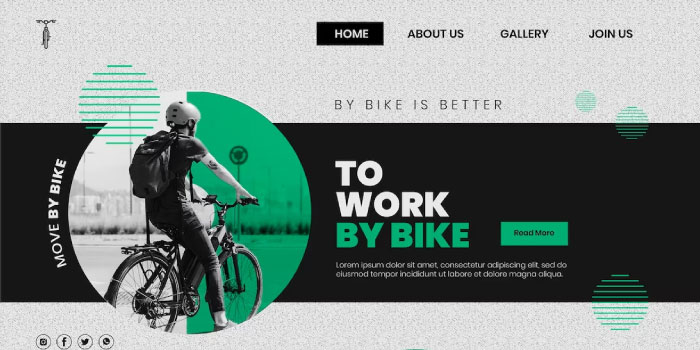 Hover animations have long proved useful for small, passively engaging micro-interactions. Web designers are going even further in 2023 with hover animations, turning common page elements into stunning product reveals.
Designers use several objectives to achieve this trend at once. Because the visitor can review a product directly without moving to another page, it encourages speed surfing. It provides animation to the product that gives a teaser on how to use it. It helps a simple user interface by showing images singly and stopping image clutter on the page. Moving product photographs on top of the current page can give the website a new foreground dimension.
Lastly, like other surprise interactions, these hover animations encourage the visitor to keep looking for even further reveals.
2. Immersive 3D Worlds
Last year, many websites embraced immersive scrolling effects that attracts visitors to the page. The development of fully immersive websites—fully rendered 3D worlds—has been made possible partly by the ongoing interest in VR technology.
Gimmicks are old methods for having an immersive experience, but they hardly put the viewer across virtual space with the accurate tracking of a crane camera. In addition, quiet music is a reappearance to provide a dramatic touch, whereas audio techniques were seen as showy on the early internet. Most websites will request authorization to play music before loading the page because audio still presents accessibility problems.
This style requires a lot of work, occasionally requiring 3D modelling and sound mixing. Therefore, it is ideally to utilize for one-off campaigns. While these virtual worlds on websites tend to be more aesthetic than realistic, that is precisely what makes them appealing. They are dreamy and have fantasy surroundings that allow visitors to lose themselves in. They are most effective when challenging the numerous stale layouts that centre the page on a CTA (Call to Action) button. Instead, these websites rely on the visual experience to make an enduring impression on users.
3. Overstimulation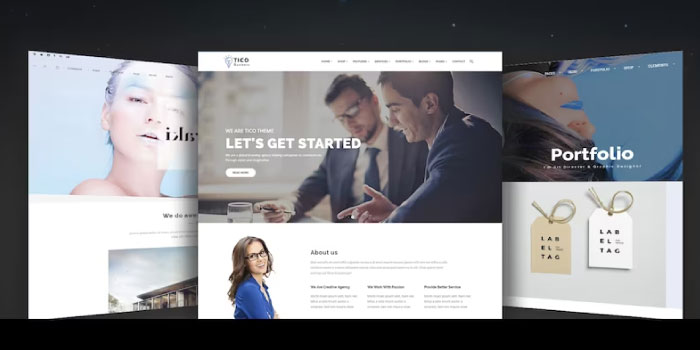 Less is more has long been the rule in the digital world, requiring that websites be simple, so visitors don't have to think. Most designers have lately revolted against these constraints by reimagining the Web 1.0 garish interfaces and using anti-design.
In 2023, digital maximalism design become prominent that strive for total overstimulation or aesthetic of excess. This style declares an all-out war on white space by customizing almost every website element. The font on a single web page can be more significant and have animated backgrounds and foregrounds. Having hover and colour splashes, click effects, and flashing images all at once.
The result is the creation of websites that are naughty, unique, artistically expressive, and bizarre. It raises the bar for enjoyment and engagement by putting the user's experience ahead of simple navigation to encourage exploration.
If you are a start-up and want to create a trendy yet excessively aesthetic website, then opt for Creatix9 UK, the best web design and app development services provider online that can make your wish into reality. Visit our website and explore our entire portfolio of web design.
4. '90s Navigation
90s retro is a vital theme in web design trends which is an expression of the older styles, layouts, colours and fonts like a vintage. This pattern is still present in 2023. Designers are enhancing their imaginative interpretation of nostalgia with a focus on navigation. Nostalgic navigation can display in the techniques of very literal '90s design like pixelated desktop icons or vibrant menu colour blocks.
However, the trend can still draw in younger people even in their lack of sense memory by providing a digital replica of a world they could not experience. In general, nostalgia is always helpful for making listeners feel good, especially during difficult circumstances. However, the fact that it is utilized for navigation suggests that you can use the past as a way to advance.
5. Scrapbook Aesthetic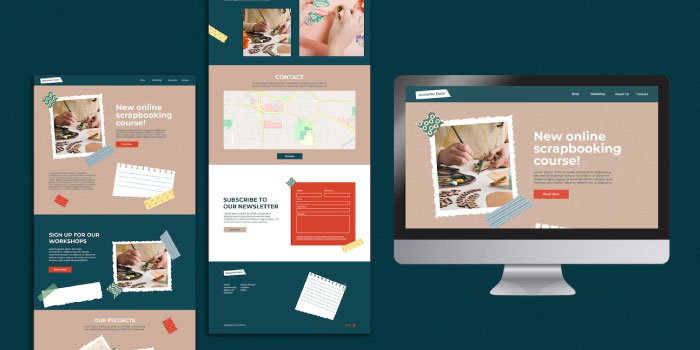 Massive technological advancements over the previous year ended in the much-awaited launch of the James Webb Space Telescope. But a desire to recapture the natural world frequently go with futurism. Websites in 2023 are expressing this drive through DIY and scrapbooking themes.
These websites frequently feature cut-and-paste collages, handwritten lettering, sticker graphics, and doodle drawings. These handmade details re-form the tactile experience through an old-fashioned zine and infuse imperfection and intimacy for automated accuracy. However, despite opposition to the gimmickry of more technologically advanced trends, the handcrafted aesthetic agrees with the existence of technology. These designs purely embrace the coexistence of two sides of the natural and digital worlds.
Contact Creatix9 UK, the best creative agency services online and iOS app development services in the UK is also best known for its web design services, if you want to design a trendy website for your business expansion. We serve to offer the best website design solutions to global bands of almost every sector. Reach out to us right now.
6. Overlapping Text
The grid, in which layouts are placed in orderly, even areas, and everything is in its correct place, has long been a hostage to web design. Web designers have rebelled against this prescribed structure through unconventional methods like Neo-brutalism, which matured the more modern aspects of traditional brutalism. In 2023, there efforts become successful and now websites frequently display overlapping and chaotic text, one of brutalism's more defining characteristics.
Even well-known websites now have page elements that overlap, making typography nearly impossible to read over pictures. Frequently, only a few headlines would overlap, giving the website a slight brutalist impression while maintaining a professional overall look. Because it breaks up regularity without letting the entire page fall into experimental chaos, this gives the trend its broad appeal.
The sheer size of the headline makes the effect, while the trend does compromise some immediate readability, at most temporary. Alternatively, this design draws attention with a stylized title resembling magazine cover lettering. Since almost everyone is completely bored of the same, neatly organized layouts, this trend indicates that breaking the rules is becoming more widely accepted.
7. Parallax Zoom Scrolling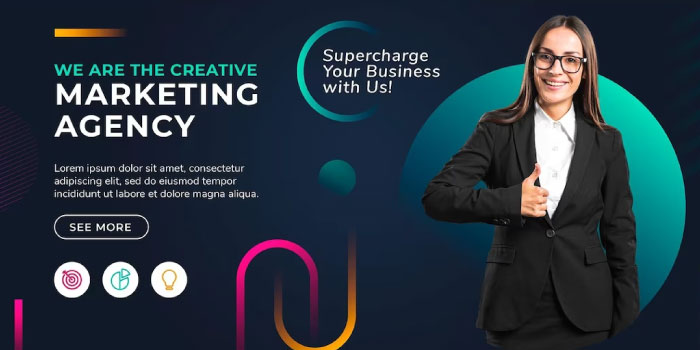 An animation method, the parallax effect creates a sense of realism and depth in which the foreground and background objects move at different speeds. Even though it has long been a traditional website aesthetic, parallax zoom scrolling is still widely used in 2023.
Instead of scrolling horizontally or vertically, this parallax scroll forces the viewer inside or outside the horizon, creating an unexpected three-dimensional movement. It resembles the direct zooming effect that services like TikTok have made available to video producers. Additionally, because just one scroll gives consumers the sensation of boarding a tour into the unknown, it is related to immersive environments and overstimulation tendencies.
Conclusion
The web design trends for 2023 represent a varied range of simultaneous urges. The definition of a website is being pushed to its limits by overstimulation, and virtual worlds. The internet is becoming more tactile by including scrapbook features, 90s navigation, and overlapping texts.
Like the real world, the internet can occasionally be a dark place where information is distorted and diverted attention. Although design cannot resolve this issue on its own, it can give consumers a tool to simplify their lives. These web design trends also aim far higher, providing user's memorable interactions and creative experiences.
If you are considering redesigning your website as per the latest trends or want to build an innovative web to digitally expand your business, then approach Creatix9 UK.
We are the most outstanding web design service provider, app development services provider online, and IT Services Provider in London, delivering the best iOS app development services in the UK and creative agency services online. Our most efficient services include Responsive design, CMS website design and UI design. Get in touch with us now.