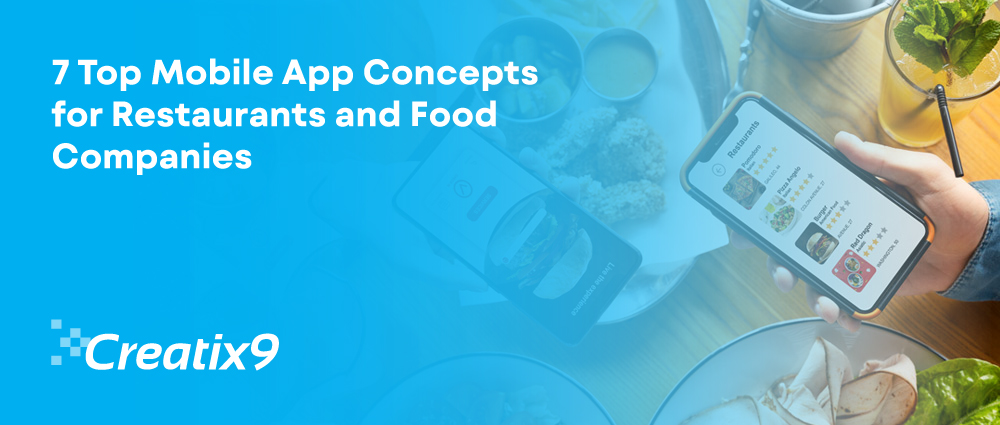 Due to the possibilities that the food delivery market presents in light of the ongoing pandemic, many companies have entered it. This new change may be necessary given that it is predicted that by 2022 the global meal delivery market will bring in USD 956 million annually.
The greatest food delivery apps frequently upgrade their features to make our lives better. The online meal delivery app is expected to increase at an average annual pace of 38.08% between 2018 and 2023. Due to restaurants utilising food app ideas and choosing to construct food delivery apps, the number of daily orders is increasing, which has yet to be done in essential cities worldwide.
The companies that create mobile applications are taking extra steps to make them intelligent and hassle-free. Executing restaurant app ideas allows consumers wouldn't need to wait in line to place an order for meals or a meal delivery service without receiving updates. For the next three years, the €83 billion worldwide food delivery market is anticipated to grow at a 3.5% annual pace.
This blog by Creatix9 UK, the top professional digital agency and android application development company UK, will give various app options for restaurant companies looking to attempt to hold the market. Browse the possibilities and choose your fantastic food delivery app idea for the next significant step.
Food Delivery Apps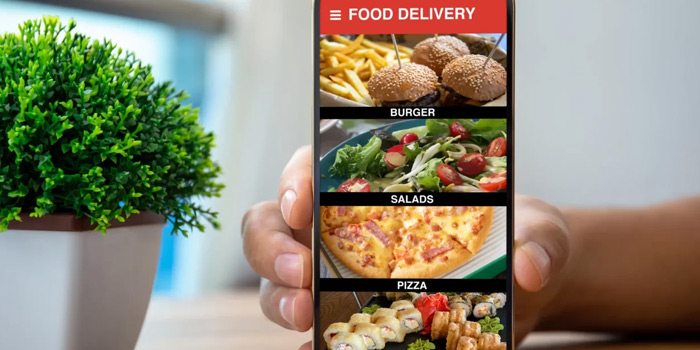 The idea of a meal delivery app frequently comes to mind while brainstorming app concepts for restaurant entrepreneurs. By enabling location services in the app, users can have tasty meals delivered straight to their door.
You will require an administration system or point-of-sale whether you're creating an UberEats clone app or a food delivery business like Just Eat or Zomato.
You can easily create a smartphone app to manage and scale up food delivery for your restaurant business.
When integrating a meal delivery app with your restaurant business, think about resource management and organisation rather than just developing an online order. You can keep track of every online transaction and its history with the help of a useful smartphone app.
For people who commute during rush hour, these food app ideas establish a trustworthy relationship with your clients.
The Idea for Table Booking App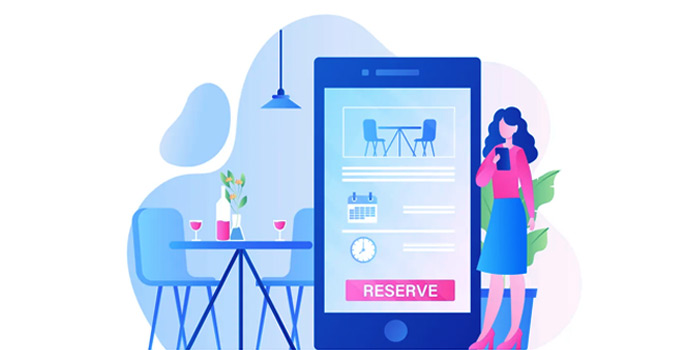 During the pandemic, more individuals are scheduling tables to follow the social distance rules and still, people are reluctant to sit nearby. One idea for a food app that offers convenience to consumers by saving them valuable time is a table booking App. The restaurant can easily handle their orders more precisely, improve user experience, and provide staff members enough time to make the food. The owner can efficiently operate their business in a smaller location.
You can also book a table over the phone, but the restaurant staff will also take your details down on paper. What happens, though, if the paper disappears?
And how about information management? Hence, you require a mobile app to confirm the reservation.
Business for food delivery is booming. Are you willing to delve into the future?
Hire mobile app developers from Creatix9 UK, the top android application development company UK. We help you quickly implement company ideas when having a high-quality food delivery app.
Food Ordering Market App Idea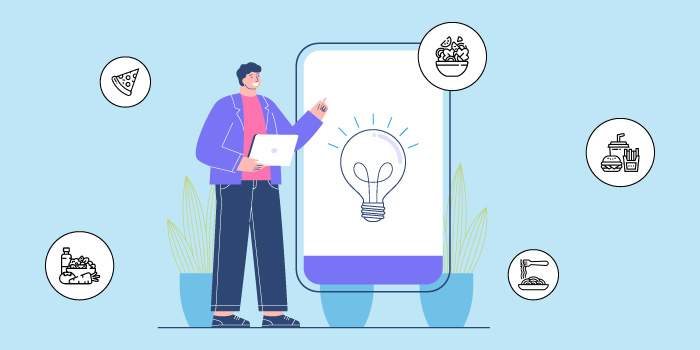 Several meal delivery applications serve as marketplace aggregators (An e-commerce aggregator is a platform that gathers and presents to consumers a variety of products and services from different vendors in one place). These applications identify the restaurants that offer food delivery and add them to their applications.
This food ordering marketplace software is perfect if a restaurant owner wants an online presence but wants to avoid constructing their food app. Software for online food delivery services provides restaurants with a platform to advertise their menus to starving clients.
When a customer orders food from a particular restaurant and offers home delivery, the selected businesses come to know about it.
The e-commerce market has seen substantial progression in delivery services and online meal-ordering apps. This demonstrates that this company can generate substantial revenues if it follows current trends.
Suggestions For Food Delivery Apps Designed For Restaurant Aggregators:
Consumers can browse a list of restaurants and their menus based on location. Also, you can just read the reviews for each business.
They make the transaction and select their preferred payment method because numerous options are available (COD or Online payment).
The notifications will receive by the managers of eateries and marketplaces.
Clients receive an order confirmation.
Meal preparation and order processing in the kitchen will start.
A third-party delivery service or a restaurant sends the order to the customer.
After deducting a specified commission from the total bill, the marketplace owner gives the restaurant owner the remaining money.
This type of software primarily benefits consumers' convenience by delivering meals right to customers' doorsteps.
The Home-Made Food App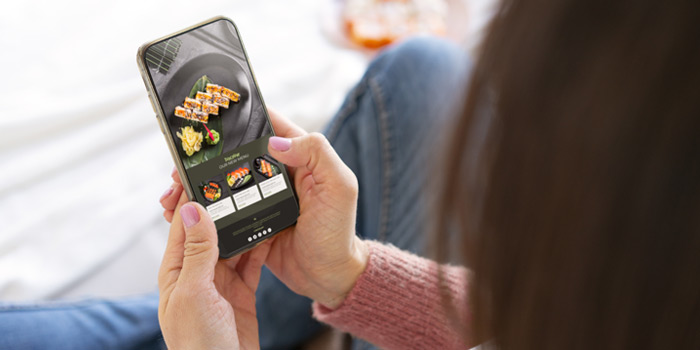 Similar to the desires that fast food sparks, those who indulge in a nice home-style meal crave a wide variety of dishes. A restaurant's taste does not appeal to home food lovers. This is a great food app idea that will appeal to fans of home cooking because your app will target the segment that expects homemade meals.
Unlike restaurants, you can work with independent or remote chefs using this strategy, allowing them to sign up and provide on-demand cuisine. Customers can choose their dish or cuisine and place custom order requests here.
An App To Reduce Food Waste
This is an excellent concept for an app for the restaurant industry because you can quickly start a company by giving out leftover food from restaurants to the less fortunate residents of your neighbourhood. Being mindful of food waste is crucial for restaurant owners. These days, food manufacturers generate a lot of food.
The number of deprived people is increasing quickly, and this idea—which focuses on helping the poor—can be significant.
But with such an app, how can you develop a business strategy? Well, the corporate world has already embraced this kind of fantastic idea for a food delivery app. To split running costs, a business that creates an app with this novel idea is always welcome to work with established corporations. Crowdfunding is a fantastic choice for developing these applications in the long run.
Frozen Food Products Shipping
Globally, there is a rising need for frozen food products. Also, if we consider a recent study, the estimated market value of frozen food item delivery is expected to reach USD 408.8 billion by 2027. This considerable expansion is projected using only the existing annual frozen food consumption in Middle Eastern, Asian, and European nations.
Companies that sell frozen food products have a thin online presence. And because of this, any new brand has a fantastic opportunity to grow. Fish, prepared meals, different vegetables, potatoes, meat, dairy products, fruits, and potatoes are just a few of the frozen food items that can be delivered. It would only increase the attraction for your target customers if you included organic food items on your list.
An App Offering Food Coupons and Deals
It is common knowledge that customers will always search for deals and discounts before making a reservation. To offer appealing deals and discounts via the mobile app, this is one of the food app ideas where you would go above and beyond.
Since you or your restaurants can advertise current discounts on food and their celebratory feasts, try catering to existing customers while keeping new ones coming in. The meal delivery mobile app makes it easier to identify recurring customers and show them appreciation with the right incentives to encourage repeat business.
What Functions Should Include in an App For Delivering Food?
Successful restaurant and food delivery app implementations should include the following features.
Registration of Users
Select a restaurant or food delivery service, then place an order and modify it in the app.
Notifications That "Push"
Delivery Driver and the Restaurant's Contact Information
Feedback on Food Delivery Services from Customers
Driver Real-Time Monitoring
You Can Choose When to Make Payments on Your Purchase
Conclusion
You can execute any food app concept discussed above as a starting point. Online meal delivery services come in various flavours, and all it takes to capitalise on the advantages is to set on any excellent food delivery app idea.
Imagine your interest in developing an app for the restaurant and food industry. Then, you should have a definite backend and delivery strategy to bring about the supply chain and organise distribution in a streamlined and fluid way.
You can find a UK mobile app development company that will share their startup application, like Creatix9 UK. Being the best professional digital agency, we also cover smartphone app development projects all over the UK. We hire mobile app developers that are not skilled but extremely creative that bring a unique and mesmerising app for your business.