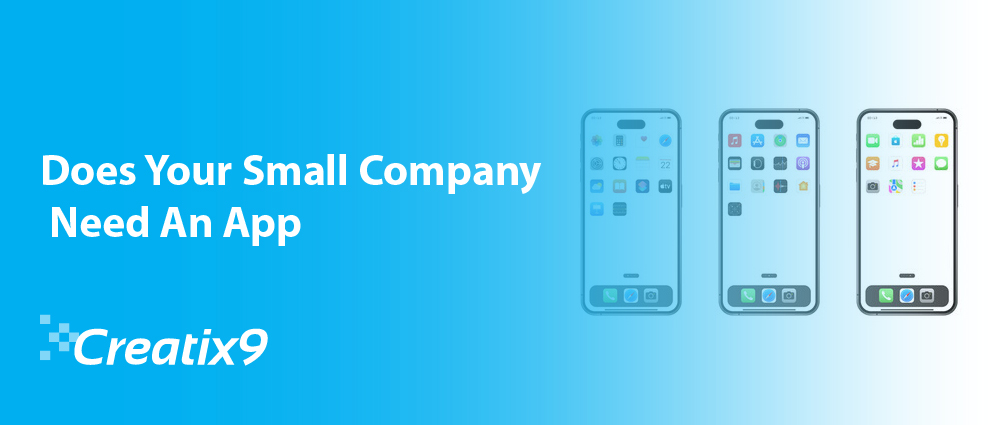 The market for mobile devices is expanding rapidly. Should your business get in on the app trend? Companies are motivated to develop applications since it is predicted that in 2022, mobile users would spend $156.5 billion on app stores.
IOS application development companies in the UK can enhance user experiences and brand recognition. When deciding whether to construct an app, you should consider your goal, how your target audience uses mobile devices, your development strategy, and your budget.
This blog is aimed for small business owners who are considering creating a mobile application to enhance customer experience and increase their clientele.
Apps for smartphones are increasingly being used in marketing and retail. Due to the widespread use of smartphones and tablets, App Annie predicts that consumer spending in the app markets will reach $156.5 billion in 2022, making applications increasingly appealing to small local businesses.
Several types of neighborhood-based companies, including pubs, restaurants, flower shops, hair salons, physicians, and other healthcare providers, are utilising apps to improve the customer experience. But does every business require an app? We'll break down the factors you should examine if you're thinking about devoting time and resources to developing apps.
How to Decide Whether You Need an App
As the use of mobile devices increases, people spend a lot of time interacting with mobile apps on their smartphones and tablets. 97% of Americans, according to Pew Research, own a cellphone of some kind, with 85% having a smartphone. Mobile applications, which account for 88% of the time spent on digital media by Americans over the age of 18, are being used all throughout the country, according to a report by eMarketer.
Not whether or not your company will benefit from having a mobile app development, but rather, under what conditions is it practical to design and manage an app while continuously adding interesting features and fresh content to keep customers interested?
Consider the following factors while deciding whether or not to app.
What Is The Aim?
When thinking about developing a mobile app for your business, consider how you would use it and the features you would need.
A specialised mobile app can help both old and new customers in many different ways. It can increase sales by promoting new products and services, limited-time offers, loyalty programmes, and other advantages for both in-person and online transactions.
Also, a mobile app serves as a constant, real-time channel of connection with your customers. Consumers may explore your merchandise, look up locations, check your hours, and get directions, among other things.
Just Who Are Your Clients?
When deciding whether to create a mobile app, take into account your target audience and how likely they are to utilise it.
Most firms want to attract customers who are between the ages of 18 and older than 65. Younger users (those between the ages of 13 and 24) visit apps more frequently than users over the age of 45, but they are also more likely to stop using them if they don't suit their needs.
Mobile browsers are preferred by users over the age of 45, but when they do use apps, they use them on average 25% longer than do younger users. People between the ages of 25 and 44 use apps frequently, especially for retail apps.
How Focused On Mobile Devices Are Your Clients?
It comes as no surprise that the same group of people who enjoy downloading new smartphone apps also invests a lot of time playing with them. Younger consumers are more familiar with the functionalities of applications and use them frequently. By utilising their mobile devices, people absorb a lot of information.
Due to the popularity of retail apps, users between the ages of 25 and 44 become the ideal clients for businesses looking to promote an in-store experience or sell goods online via mobile.
Because they are more used to using desktop computers, those over the age of 45 are less familiar with mobile apps and how they work. They are more inclined to use an app if it offers recognisable features and an easy-to-use interface.
What Do Your Clients Desire?
If you're thinking about developing a dedicated app, examine what users want. Customers rely on applications that offer a practical and simple user interface, as well as apps that offer better discounts or promotions not available on other platforms, like the company's website.
The study found that personalisation made apps more appealing to younger customers (between the ages of 16 and 34). On the other hand, people who make less than $50,000 a year are more inclined to give priority to apps that work with mobile wallets like Apple Pay and Google Pay.
What Advantages Does An App Have Over Your Current Website?
Mobile apps are more convenient and user-friendly than mobile websites. A dedicated app can profit from your current online presence even if your website was designed as a mobile-friendly, responsive site that easily changes from desktop to mobile browsers and back.
A website that offers comprehensive information about your organisation is crucial, just like having a phone. Similar to a phone, it takes effort on the user's side to locate the homepage, bookmark the website, and traverse the many content pages. Even the most user-friendly mobile website is more difficult and time-consuming to create than a mobile app.
Apps are naturally portable. Because they don't have to adapt to a new format, they may concentrate on more urgent, customer-focused challenges. According to VWO, an A/B testing tool platform, users prefer mobile apps over mobile websites because they provide more personalization and efficiency in addition to other benefits like notifications, offline mode, and quick loading times.
What Plan Do You Have For Creating An App?
After selecting to build an app, the next step is to plan your approach. Is it possible to create an app using an app builder that already exists, or should you hire a skilled mobile app developer to create one from the ground up for you?
Among the app builders are AppMachine, BuildFire, GoodBarber, and Shoutem. These tools are useful resources for individuals who have the time to comprehend and put them to use. Although developing an app with software is not very difficult, it does take time, which you might not have if you are also managing a business. Consider enlisting the aid of additional professionals in that circumstance.
What Is Your Budget For Creating And Maintaining An App?
Whether you use a do-it-yourself app builder to build your own app or employ a mobile design and experience company, you should be prepared to pay money. Although it can be challenging to generalise across a large range of organisations and app requirements, there are certain generalisations.
DIY Services
DIY services are by definition less expensive and have the potential to deliver stunning results. Most services charge monthly fees starting at $20 and above, depending on your app, devices, and markets. Other fees like hosting fees and app store placement can be necessary. Make sure the company you choose can manage the regularly changing app store guidelines from organisations like Google and Apple.
Professional Developers
The cost of developing an app can range from $50 to $250 per hour in the US, despite costs being very variable. According to the startup product development business SpdLoad, designing a straightforward piece of software can cost up to $60,000; however, more complicated programmes can cost well into the six figures. Businesses must also factor in budgets for updates and marketing, and apps requiring a back-end server or connected APIs will cost considerably more. The cost will go up if you develop for both iOS app development and Android app development. The more features, complexity, and platforms your software has, the more expensive it will be.
Hybrid Strategy
You can reduce your expenses and enhance your professional accomplishments by using a hybrid method. Choose a DIY app developer first, but pick one whose company also offers in-house services. By using this method, you may construct the basic wireframe for your app before handing it off to specialists to add more intricate, specialised features. The cost of a hybrid strategy is more than doing everything yourself, but lower than hiring an app business to build it from the ground up.
What You Should Be Aware Of When Creating Apps
Mobile app development is a constantly changing industry. A new operating system version with unique features will be introduced every six months or so, bringing about changes and new considerations.
Certain Android app development and iOS application updates could change how some apps work. To avoid incompatibility or cybersecurity issues, it's critical to stay current with updates and new developments. Consider the cost of updating your mobile application development.
6 Essential Stages for Creating an App
Regardless of the project you want to realise, the app development companies in the UK, process has six fundamental components. By dividing the task into six simple steps, you can construct your app fast and efficiently.
Idea: Think about the problem your app attempts to solve, your app's intended user base, the importance of the features, and whether or not other apps already on the market are similar to yours.
Design: Create an app with a user-friendly UI.
Developing: Development includes writing the app's code, creating it, and beginning the first round of testing.
Testing: Analyze the app's functionality, find any flaws, and discover how to make changes.
Launch: Once your software is bug-free and usable, upload it to retailers like the Apple App Store and the Google Play Store.
Marketing: Create a marketing strategy to entice people to download your app and solicit their input on how to boost user engagement.
Conclusion
Having a specific smartphone app for your small business will undoubtedly be advantageous. Several people already laud how easy mobile shopping is. Many customers will eagerly anticipate your app due to the extensive use of mobile devices; it's up to you to provide the features and user experiences they want.
Nevertheless, regardless of how much you want to do it, developing an app is only worthwhile if it provides a terrific user experience and you have the resources to support it in the long run. If you are looking for digital service provider in the UK, then get in touch with Creatix9.